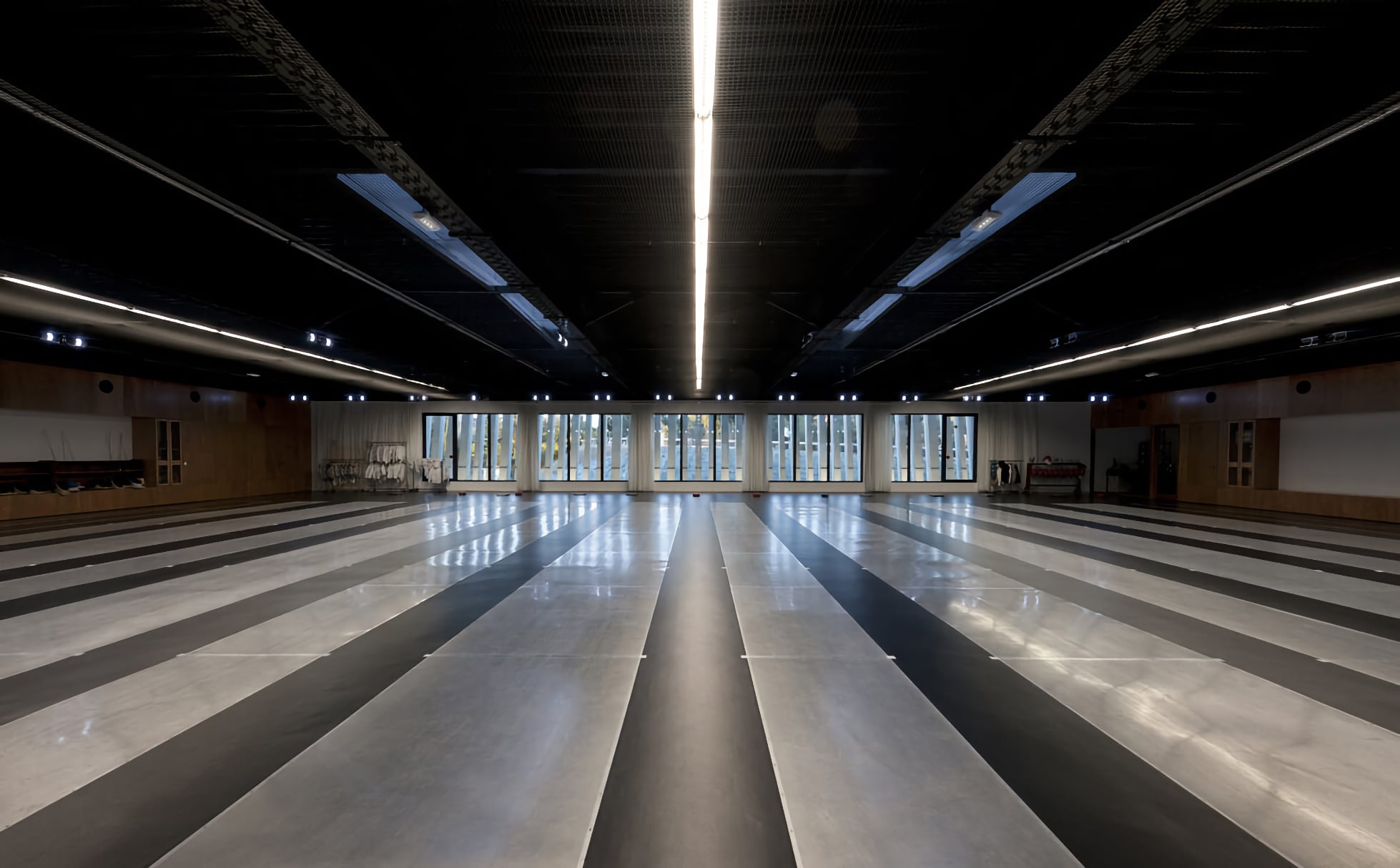 Fencing Hall of the Martial Arts Complex – Val de l'Arc Sports Complex – Aix-en-Provence

INFORMATIONS
Fencing Hall – Indoor

The House of Fighting Arts is a recent sports facility, located in the Val de l'Arc sports complex, a multi-sports centre of 93270 m_, situated south of Aix-en-Provence, 15 minutes' walk from the town centre. In a privileged setting at the foot of the Sainte Victoire mountain, the fighting arts centre is easily accessible (motorway, bus, train, plane) and has easy parking, including for team buses.
Offering a single location for training, catering, accommodation and care, this quality facility meets international standards and hosts regional, national and international competitions and sporting events every year.
Particularly for fencing, the site has been hosting the Licciardi International Challenge, Junior Men's Foil World Cup, for several years.

HOW FAR AWAY AM I FROM …
a train station
: 30 mn
an airport
: 40 mn
a hospital
: 10 mn

SPORTS
Olympic Sports
:

EQUIPMENT INFORMATION
Construction date
: 2015   
Renovation date
: 2019
Type of ground
:
PVC hammer
Lanes / Zones / Width
:
Number of tracks: 12
Air conditioning system
:
Oui
Ceiling height
:
3,6m
Locker rooms / Toilets
Number of locker rooms: 2
Number of toilets: 8 | Number of PRM toilets : 8 | Number of toilets ( for athletes ): 8

AMENITIES
Comfort facilities
:
Additional services are provided for the health part in partnership with the health department of Human Fab, a centre of medical expertise and sports engineering. Hot and cold baths, sauna, hamman, cryotherapy, physiotherapy room, anti-doping, restaurants and hotels on site
Information facilities
:
Internet access
behind closed doors
Possibility of using an on-site repairer and equipment required
Secure storage space for equipment
Additional premises
:
Weights room
Meeting room
Minibus car park

CONTACT
Salle d'armes de la Maison des arts de combats – Complexe Sportif du Val de l'arc
Rue Henri Moissan – 13100 Aix-en-Provence
Olivier Penin
City Sport Manager
penino@mairie-aixenprovence.fr
04 42 91 88 50
<< BACK