Thanks to the commitment of the Department, the city of Istres, Team Colas Pugil'Istres and the Departmental Boxing Committee, the French women's boxing team is coming to Istres! From June 6 to 12, the boxers prepared for the Mediterranean Games in Oran and the Paris 2024 Olympic Games. They chose Provence and more particularly Le Podium in Istres to benefit from optimal conditions.
Nearly 16 athletes and 3 members of the staff chose Provence and the Le Podium complex in Istres to take advantage of this site, which has been labelled a Games Preparation Centre (GPC) for the training conditions and overall reception (hotels, catering, transport, etc.) that it offers.
3 boxers from Provence in the French team
Among the boxers, three are licensed in Bouches-du-Rhône and benefit from the Department's grant for high-level athletes: Romane Moulai (-50 kg European champion U22 2021), Caroline Cruveillier (-54 kg European champion U22 2019/2022, bronze euro 2019 and vice-world champion 2019, licensed at the Istres club) and Salma Friga (-54 kg, French champion 2021, licensed at the Ring club valley Marseille).
The arrival of the French women's boxing team is part of the actions carried out by the Department for the reception and training of athletes on its territory in view of the 2024 Olympic Games. The Department has already made it possible to host the French foil team and the Hong Kong fencing team in Aix-en-Provence, the French U20 football team in Trets, the Senegalese women's handball team in Plan-de-Cuques, and the Kenyan athletics team in Miramas.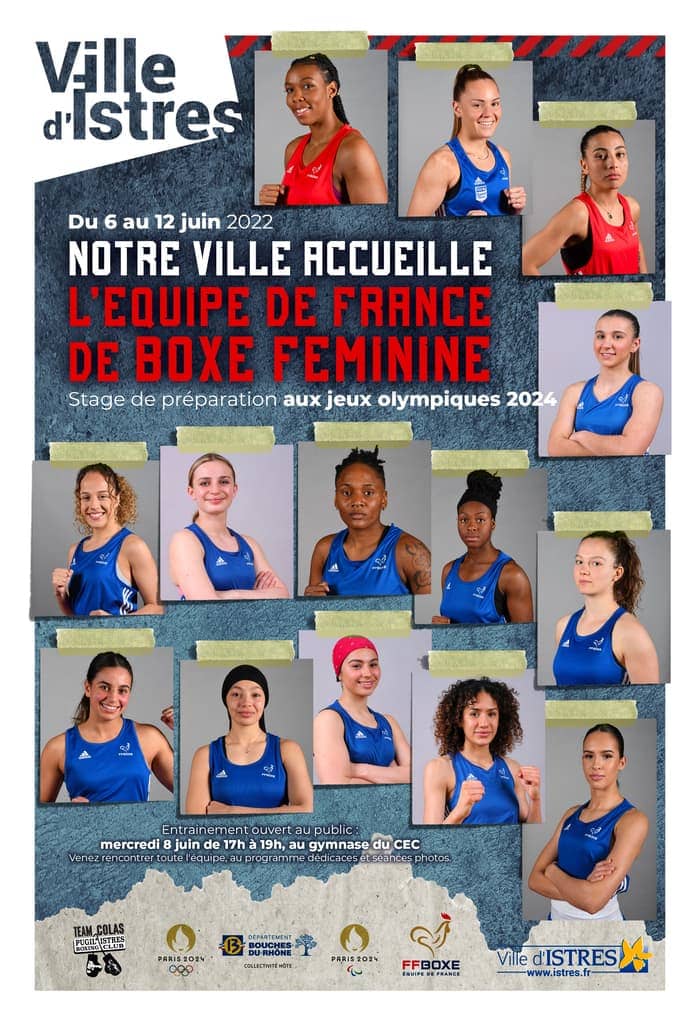 Photo © : Nadia Poorjabar – Pugil'Istres Boxing Team